In-Touch with Technology Teachers in Japan
13/11/19 17:36
Introduction to Design & Technology and Technology Education in Oceania and Asia (Sept 2019)


The Technology subject in Japanese junior high schools will be implementing a new syllabus in 2021. The changes are made upon the review done by the Ministry of Education, Culture, Sports, Science and Technology (MEXT).

The Technology subject in Japanese junior high schools mainly focus on developing technical skill in students. However, in many countries, technology education has evolved from craft and placed much emphasis on design thinking to solve a real-life problem. In the upcoming new syllabus, a significant change will see the incorporation of design education into the subject.

As such, the Hiroshima Society for Technology Education invited Assistant Professor LOH Wei Leong, Leon, to give a lecture on the Technology Education in Singapore, Australia, New Zealand and Taiwan. He specializes in Design Education for Pre-Tertiary and University Education.

The lecture was held on September 21, 2019 (Saturday) at Hiroshima City Nishi Ward, Cultural Center, Conference Room A, from 14: 00 - 17: 00.

The lecture touched on the following points:

How does technology education look like in the various country?

How to help students develop the skills to identify problems in everyday life?

How to design curriculum and project briefs?

How to evaluate students work?
A lecture was followed by a Question and Answer session to clarify issues and discuss concerns that the teachers had. Assistant Professor LOH hopes to collaborate with the teachers teaching technology subject in Japan to design and develop new school curriculum for Technology and to explore new teaching and learning strategies.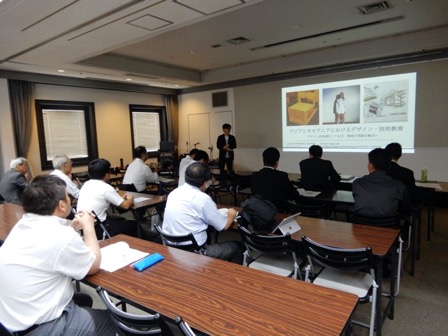 Lecture in progress.